Orbiter by Martin Schweiger
---

The new website for CVE-Lite and all my new Orbiter vessels. Download page for:

Ariane 5
Progress
Soyuz TMA
Soyuz launchers
CVEL-Atlantis
Vulcan
Ariane 4
Proton K
Fregat
and more.

Multiplayer Orbiter?

A technology demonstrator for multi-user orbital mechanics simulation using Martin Schweiger's Orbiter as a rendering engine, with an eye to the future Kosmos project.
---
Ariane 5
Ariane 5 now has its own website at ariane5.aibs.org.uk.

---
A software thief
Ever wondered what a code-thief sounds like? An Orbiter user by the nickname of dinghao has stolen my LGPL'd Vulcan code. He's also used Ariane 5 as a base for his works. He won't admit it, despite it using my leveller() function, and including a header for VulcainThrust(). Why not read his 'rebuttal' here?
---
Grand Imperial Bases
The second part of the Grand Imperial Bases package: Melville Spaceport joins the existing Sydney International.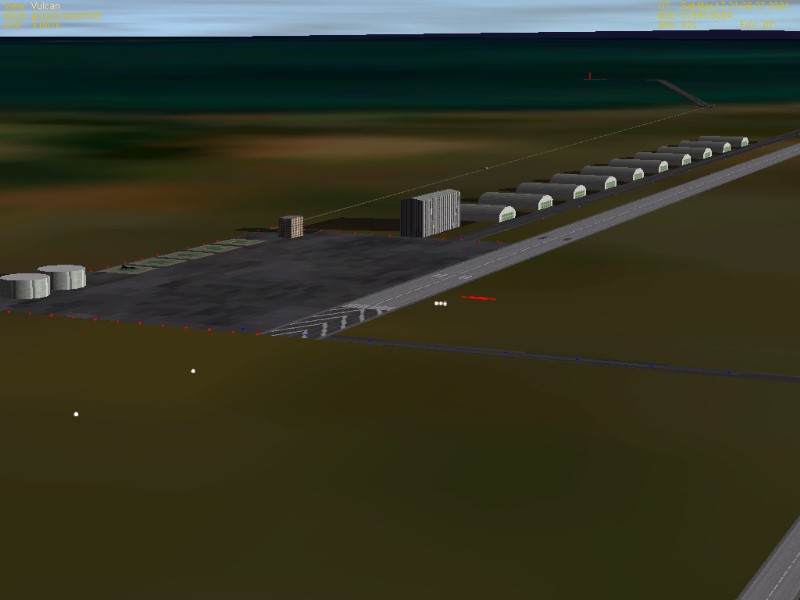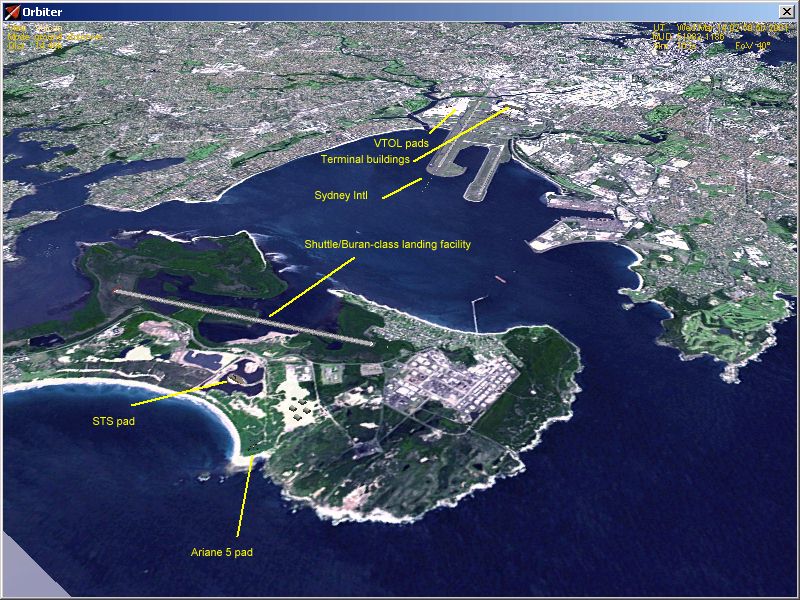 Download Grand Imperial Bases 0.2.
---
MultiOrbMFD
A second generation multiple player MFD. Alpha level and currently not being developed. Please see the MultiOrb Site.
---
BurnTimeCalc MFD
Updated 25/11/2004: calculate when to start your TransX burns.
| | |
| --- | --- |
| Fed up with your TransX burns looking like this? | |
| Why not try new BTC -- the BurnTimeCalculator? | |
| Your transfer insertion blues will be a thing of the past.Vanishing blues not guarenteed | |
---
Lunar Booster for Soyuz
---
Orbiter MiniBar
An advanced human physiology simulator. The Orbiter MiniBar.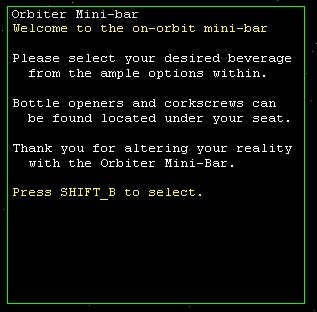 ---
Spaceport Manston -- now including Spaceport Lydd.
Become a member of OCOK: the Orbiter Club of Kent, by simply downloading Spaceport Manston. UPDATED to v2.2 3/9/04 to include Spaceport Lydd, with larger launchpad area and Soyuz, Proton and Energia pads requiring Baikonur 1.01 installed. Fly conventional and VTOL aircraft from RAF Manston and Lydd airport in Kent, plus the Ariane 5, Proton, Soyuz and even Buran/Energia from their own dedicated launch towers. Satellite imagary of East Kent keeps you truly in the picture. Important: follow the instructions carefully as this requires you to modify your Earth.CFG file EVEN IF YOU ARE UPGRADING FROM MANSTON 1.1. See the readme file for more details.

  ***PLEASE NOTE***
  There seems to be a bug that means the two nearby bases can't have nearby base
  numbers, else the lighting goes a bit screwy after dark. The solution (for now)
  is to swap the numbers of one of the higher bases with Lydd. That is: move the
  Lydd line to Base10, say and move the Base10 line to the end, swapping the numbers
  to keep in sequence.

  Sorry about this, I haven't found an explanation yet.
  *****************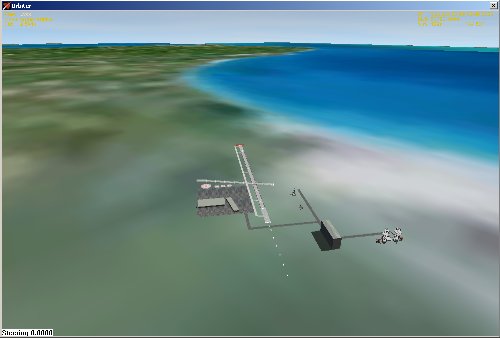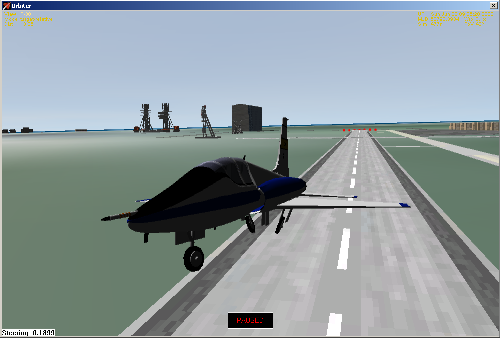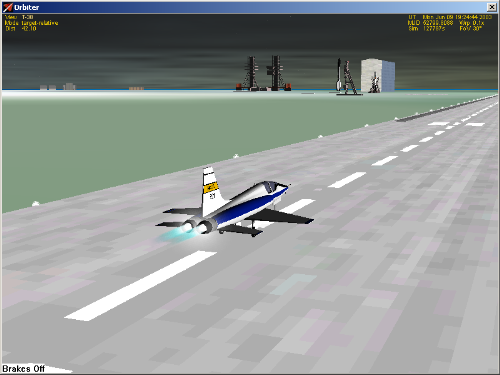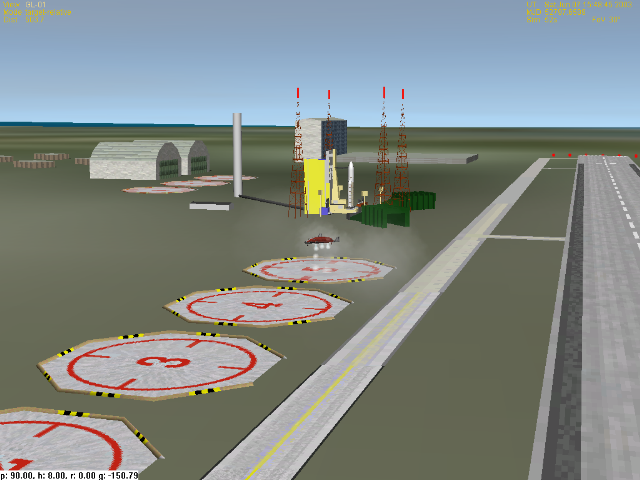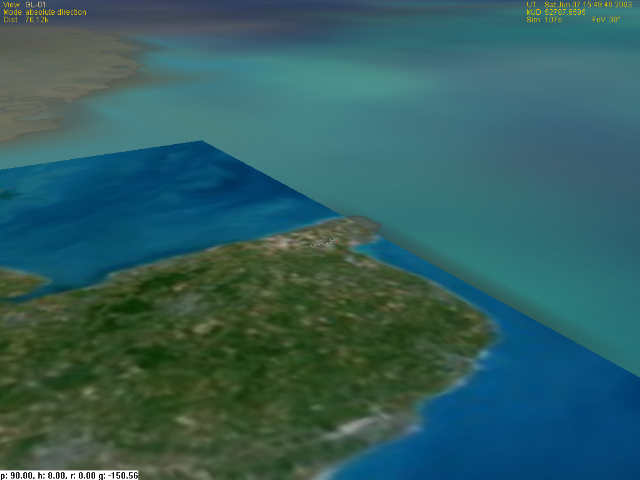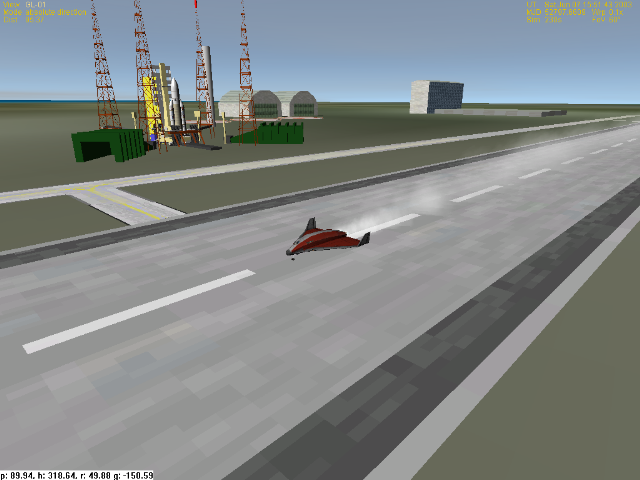 ---
Upcoming releases
Ariane 5 version 2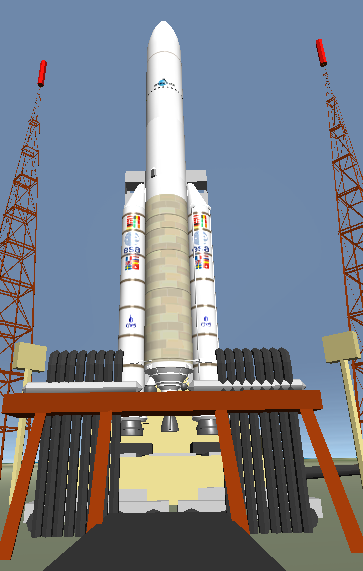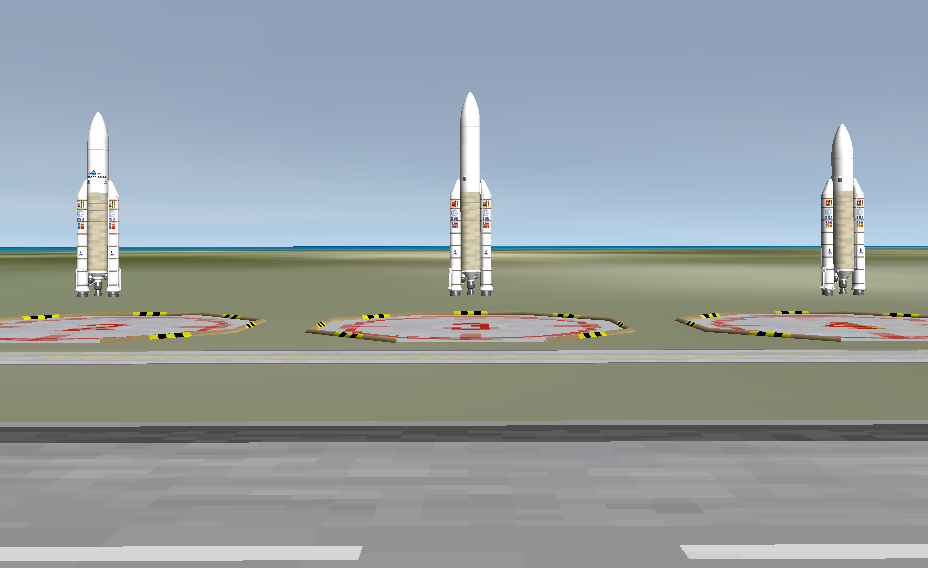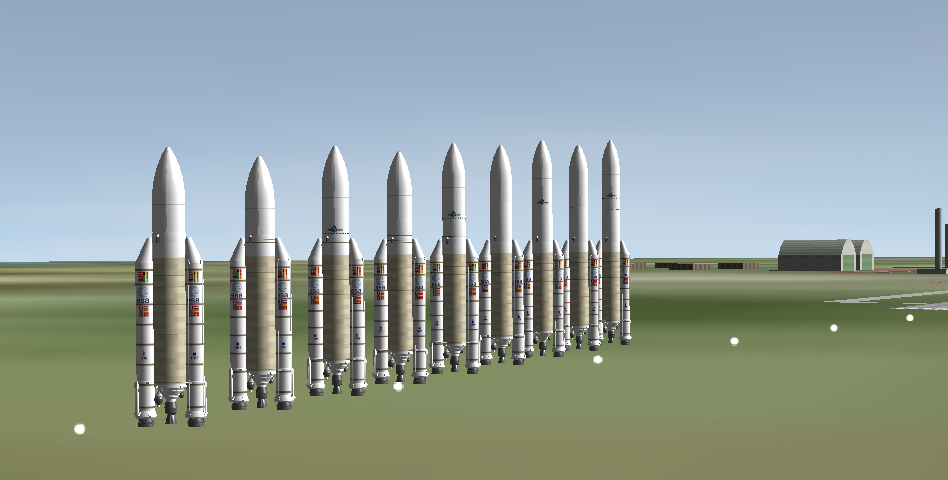 ---
---
Fuel Transfer MFD
The old and clunky FuelXFer MFD (unsupported).



---
AIBS Copyright 2002-4